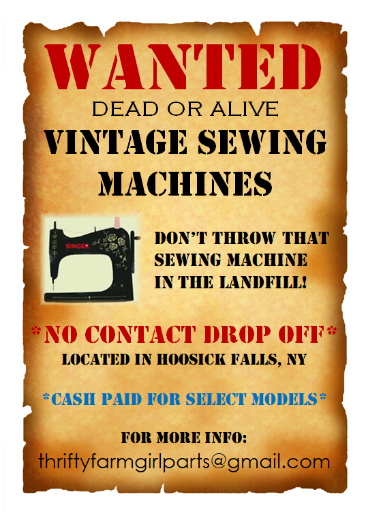 ***PLEASE NOTE***
WE ARE NOT TAKING IN SEWING MACHINES AT THIS TIME.
PLEASE REFER TO CRAIGSLIST, EBAY, ETSY, OR THRIFT SHOPS
FOR SELLING OR DONATING YOUR MACHINES.
---------------------------------------------------------------------------------------------------
About us We salvage, restore and re-purpose vintage sewing machines. We sell original parts, restored vintage sewing machines and related book titles. We also service vintage sewing machines. We'd like to keep as many of these wonderful machines out of the landfill and bring new life into them. Read on for more information.
To dispose of your sewing machine: Whether your sewing machine is broken or you no longer have a use for it, bring it to us. If we can't fix it, then we can re-purpose its parts for other machines. It's a better option than the landfill. Whatever is left of it would be properly disposed of. We are located at a private residence in Hoosick Falls, NY. If you would like to drop off any unwanted sewing machines simply send us an email to set up a time to do so. We answer all emails M-F until 5pm EST. thriftyfarmgirlparts@gmail.com
If you'd like to sell your sewing machine: Most vintage sewing machines are not worth a lot of money. The reason for this is because most are rusty, filthy, missing parts, need new wiring and a complete servicing. Another reason is that the model itself may be common and many are available. In some instances we will buy SELECT models. If you have a machine that has its original manual, accessories, and is in good condition, then we may consider purchasing it. Send us a few pictures of the machine you are interested in selling.
What is my sewing machine worth?
Contact us about selling your machine
If you'd like to donate your sewing machine or accessories: Sometimes I receive inquiries about someone simply wanting to donate a sewing machine or accessories. If you are interested in donating any sewing machines, accessories or manuals, just shoot us an email and we will tell you where you can send them.
Does your sewing machine just need service? Don't listen to those repair shops who tell you that your older machine is not worth fixing. This is simply not true! It's easy to find parts for most vintage sewing machines, they are easier to fix, and are all-metal, at least through the mid 1960's. The point is, there's not much on them to break. Local repair shops would rather talk you into buying a disposable plastic sewing machine. FYI: Those new plastic sewing machines will never last as long as an older model will. I personally have several sewing machines from the 1800's, and they all sew perfectly! Inquire here for sewing machine service