*IMPORTANT UPDATE*
**WE HAVE LIMITED AVAILABILITY FOR SERVICING APPOINTMENTS**

--------------------------------------------------------------------------------
*Located in Hoosick Falls, NY*
We Specialize in Servicing Vintage Domestic Sewing Machines
Get that beloved heirloom up and running!
Please note that we do not have a storefront, we are a private residence. We are available to answer your inquiries Mon-Fri until 5pm. Holidays excluded. If you need sewing machine service please
send an email
and we will get back to you right away. Emails received after 5pm will be addressed the next morning. Please read on for details on what to include in your email. Thank you.
Information on sewing machine servicing:

The charge for a sewing machine service is $100 which includes: an inspection of the overall condition to look for rust, missing or broken parts and degraded wiring. The motor is then tested. Note: If I find that the inside of the machine contains rust, I would not continue with the service, and you would not be charged. If I don't find rust inside of the machine, I would then proceed with cleaning it, adding oiling/gear lubrication. Finally I would sew on the machine, adjust and test all functions to make sure that everything is in working order. The parts that are included with a servicing (if needed) are: the motor belt, bobbin winder tire, light bulb, new needle and minor wiring, such as with a foot pedal.

Please note that the service fee does not include the cost of missing parts or replacing the wiring on motors. Missing parts include things such as needle plates, motors, bobbin winders, tension assembly, etc. If the motor for your machine is in poor condition, a new replacement would be recommended, as it's more cost effective. Once it's determined whether the wiring or parts need to be replaced, I would let you know the cost prior to doing any further work.

Please bring your foot controller and manual (if available) when you drop off your machine for service.

Read on to contact us and set up a sewing machine service...

If your vintage sewing machine needs servicing please include the following information. Email communication is preferred over phone calls because we also need pictures of your machine. We respond to emails quickly.Step 1:
Please include the following information in your email:
The make and model of your machine. If you are not sure, then include a picture of any numbers you find on the machine.
Date of the machine's last service? (cleaned, oiled and adjusted).
Has the wiring ever been replaced?
Please detail the issues you are having with your machine.
Pictures of the front and back of the machine, and any other parts of the machine that you have issues with.
When did you need the machine back?
Your phone # (in the event we are unable to reach you by email).
Step 2:
We'll review your information and reply with an estimate within 24 hrs or less (weekends if available, and holidays excluded).
Step 3:
We set up a day for you to drop your sewing machine off. You will be updated via email of any progress and/or issues. Please note that estimates are subject to change if we find an unexpected issue with your machine. We will not perform additional work until it is approved by you. We aim to get your machine completed as soon as possible. Please note that service times will vary depending on the service needed. Please allow for unforeseen delays if special parts must be ordered.
Step 4:
You'll be notified via email when your machine is ready for pick up. Payment is due when you pick up your machine. If needed we can email you an invoice to pay your bill.
That's it! If you encounter any issues with your machine just contact us right away. We are happy to offer after sales support.
CONTACT US:
Send your inquiry to:
thriftyfarmgirlparts@gmail.com
- We respond to all emails daily until 5pm, weekends if available, and holidays excluded. Note: If you did not receive a response from us within 24 hrs, please check your spam folder.
----------------------------------------------------------------
Terms:
Payment is due when you pick up your machine.
Sewing Machines not picked up after 60 days are sold.
We do not service computerized sewing machines or industrial sewing machines.
Our Google Listing
Testimonials
Sewing Machines For Sale
Sewing Machine Books
Vintage Sewing Machine Parts
------------------------------------------------------------
Our service reviews:
I am very pleased with the service Connie did on my 1957 Singer 306k and my New Home 532. Cleaned inside and out, serviced, parts replaced, she even included a vintage pressure foot , adjusted so many things. First thing she did before I even left was to check inside for rust. These sewing machines had been sitting for years. They both work perfectly and I am happy with the service. I was very sentimental about them too and she was very careful with them. And she gave tips, was generous with her knowledge, advised me where to buy a new electric plug that I could install myself. And more. Any rate I have two beautiful old machines that sew perfectly, look fabulous and are built to last. You can't go wrong bringing your machines here. Oh, fast turn around too. Yvette.I recently acquired two vintage machines. With limited knowledge on how to care for and service these machines. I did a few quick internet searches and found that Connie was only twenty five minutes from me. A couple of emails later, enter Connie. She is knowledgeable, kind, friendly, and accommodating. The return time for the machine was truly amazing! Thanks to Connie I now have two beautiful machines in working order! All I can say, Connie is the woman you are looking for, search no further.♥️ Jayne.


Connie is extremely knowledgeable and is generous with her expertise. She worked quickly and with an eye to the cost of the project. My vintage singer has never been in such good condition! Clara.


Highly recommend! Connie got back to me within a few hours of my initial inquiry and we arranged to deliver my trusty and ancient Singer Featherweight. I picked it up 24 hours later and it works better than ever! The minor problem I was having with the bobbin was fixed and the once over maintenance job made it run like a champ! She even spruced up the case I brought it in! So relieved to know there is an expert in the area to take care of my baby. Thank you Connie! Lydia Hoffman.


I'm so grateful to Connie for her knowledge, care, thoroughness, not to mention quick turn around. So glad I happened upon her site from our Town's web page! My mother's old Universal sewing machine is looking and acting like new. Thank you again, Connie!! - Jane Verderosa


This year has been the perfect year to pull out my moms old sewing machine and try my hand at a new hobby. Because the sewing machine had been sitting unused for at least 10 years, I reached out to Connie about having the sewing machine serviced. Connie was so lovely to work with, direct, quick to respond, and fair priced. She made me feel confident and comfortable handing over my mother's vintage sewing machine to be cleaned and serviced in her care. Connie provided a pdf manual (as my mom's was long gone) and even sent me home with the sample fabric that she used to test the machine, which was really helpful for me personally to be able to see what the machine can do! She also returned the sewing machine with a full page that explained what work she did on the sewing machine as well as notes and recommendations. This sewing machine has a very special place in my heart and home and Connie brought it back to life - I'm so grateful! Hilary Brown


Connie took care of my 4 machines-- 2 Singers, a Kenmore, and a Morse. She performed thorough inspections inside and out, and serviced each, eradicating small areas of rust, cleaning and lubricating. She also replaced ancient wiring on the Morse. Turnaround time was quick, and she kept me updated on progress. All ran well when I got them home. A detailed report was provided on what services were provided, and how to keep each machine in top shape. It is clear she loves and appreciates these old but irreplaceable machines. We aren't owners, we are the caretakers and stewards of these precious tools!! Don't buy new, buy vintage! Thank you Connie!!!


My 1958 Singer sewing machine had sat, unused, in my basement for 20+ years. Happily for me (and my machine), I found Connie's listing in Google. What a find! Connie has a passion for cleaning, refurbishing, and making old beauties look and perform like new! She works out of her home, so when I arrived, she did a quick check of the machine's innards, making sure that rust would not interfere with the repair. She also plugged it in to be sure the motor was still working. Connie was very positive about her initial findings and agreed to work on my Singer. Within 24 hours, she sent me a photo and video of my machine in excellent working order. When I picked it up, she provided me with a detailed account of everything she did and suggestions for keeping my Singer in good shape.I am now busy making Covid face masks with my vintage beauty, which is working like a charm! Connie is proud, hard working, and passionate about her specialty and I am so glad to have found her! Pat Rosenberg, Shelter Island, NY


Wonderful experience with Connie, the Thrifty Farm Girl. I brought her my Mom's machine which I hadn't seen in over 5 years. It needed lots of TLC and she was incredible. She repaired and replaced. She polished and shined! Threw in some bobbins, gave me a two page write up on what was done and suggestions to keep my machine at its best. (And all within 24 hours). Can't say enough. Highly recommend her. I had an hour ride to her and it was totally worth it.


I brought my vintage sewing machine to Connie for a tuneup and am extremely happy I found her. I was not only happy with my clean and tuned machine but she had it back to me within 24 hours. Maureen


I brought my vintage Singer machine in to be cleaned and checked out after having taken it to a retail shop 3 times asking for it to be serviced, only to have picked it up three times with no service being done. Connie did a great job and my machine was ready the following day! She kept me updated as she was working on it, sending pics and videos. I am very pleased with the service provided and will definitely recommend her if I find anyone whose sewing machine is in need of repair.she also sent me a link to the owner's manual and one to where I can purchase other accessories. Jeanne


I purchased my first vintage and found this wonderful woman on the internet.. from the moment I spoke to her I knew I could trust her to take care of my new purchase she did a phenomenal job on my vintage machine and taught me quite a bit more about vintage sewing machines I'm truly happy I met her I will continue doing business with her she is very honest and very reliable and extremely informative about sewing machines...I even purchased both her books. MYA
Read all reviews
----------------------------------------------------------------------
Just a few of the machines we've brought back to life...
1948 Singer 15-90 Centennial - same machine as the popular 15-91 (with potted motor),
except that it has an external motor and belt.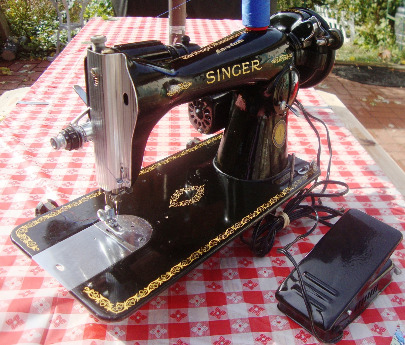 Cinderella Portable Sewing Machine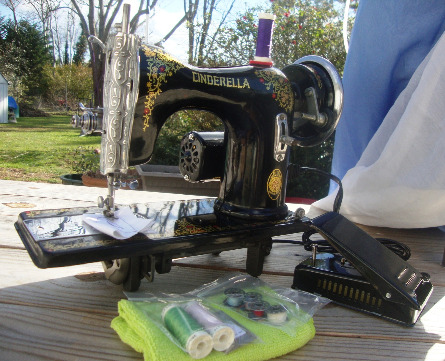 1919 Singer 15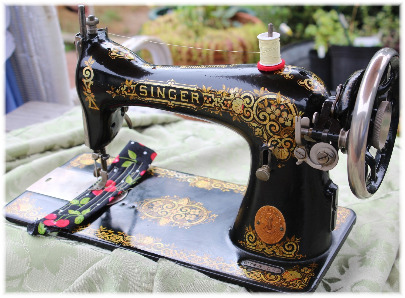 1949 Singer 15-91 literally resurrected!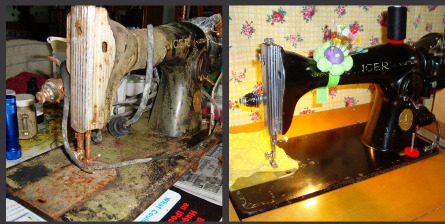 1912 New National hand crank with bentwood case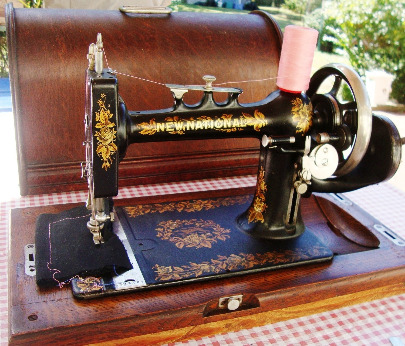 1960 Singer 185K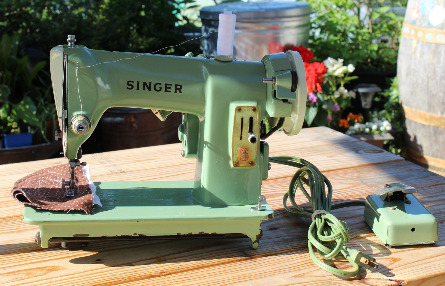 1922 Singer 127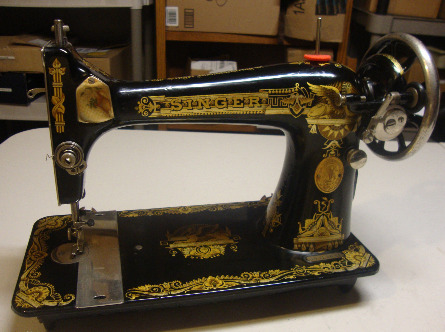 1952 White 77